Model A Catalog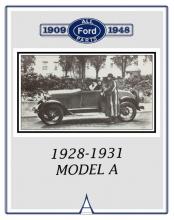 For this catalog, we have, for the most part, used Ford's original numbering system. Below we have listed the group, group numbers and the pages each group occupies in our catalog. A more specific index is included on the following pages for your convenience.
If you can't find what you are looking for, call us at 800-532-1932!
Be sure to check back periodically as we will be adding more and more content.
See our new exploded view section - pages 128 through 144
PDF Catalog - Model A
Please note: All published prices on our website, and in the PDF documents are subject to change without prior notice, during our transition to our web catalog.
The PDF catalogs are posted for information and reference for our customers. Please Call us at 800-532-1932 for up to date pricing.
Index Category and Part Number
Index Category
Full Model A Catalog by Sections
We are an authorized dealer for the following product lines