BESTGasket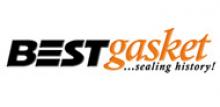 Manufacturing vintage automotive gaskets is what BESTgasket does…sealing history! 95% BESTgasket products are manufactured in the USA by BESTgasket.
BESTgasket was founded in the 1940s by Jack Best, making and selling a full product line of automotive gaskets regionally on the West Coast. In the 1980s, the company began focusing primarily on gaskets for the vintage market. BESTgasket was purchased by Craig Weaver and Armin Brown in 1996. At that time, BESTgasket was known as the low price leader in the industry. Not satisfied, the present owners have charted a new course emphasizing quality. BESTgasket's products are now second to none, while maintaining our pricing advantage.
Gaskets for vintage cars are BESTgasket entire focus. BESTgasket products are not stuck in time, because they are continuously developing new sealing solutions to old problems. The GraphTite™ head gaskets they manufacture in-house are unsurpassed in quality, and every BESTgasket engine kit includes a rear main seal that actually seals! You will find that the BESTgasket engine rebuilding sets are thoroughly complete, because they understand that a missing gasket could waste a few or more days of valuable shop time.