Bob Drake Reproductions, Inc.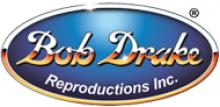 Since starting business in 1971, Bob Drake's inventory of parts has grown to over 7,000 products including many innovative hot rod parts, adding contrast to his dedication in serving purist early Ford restorers. His original one-man garage operation now employs a staff of over 40 and is housed in three buildings with a combined space of over 75,000 square feet in Grants Pass, Oregon. The company is the industry's leader in manufacturing Ford parts for 1932-1948 cars and 1932-1966 pickup trucks. Many of the parts are based on original, new old stock specimens Bob has wisely gathered in his years of attending old car swap meets or from many friends in the early Ford world. In 1994 his company was among the first chosen as a model by Ford Motor Company to participate in developing Ford's Officially Licensed Product program.
Many employees have been part of Bob's family for decades. Bob's son, Trent, helps lead the Drake team and is set to carry-on Bob's legacy for years to come.