Wescotts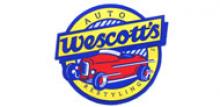 Wescotts has been in the street rod business since 1954, building some of the first fiberglass replacement fenders. They have been building 1932 roadster replica bodies for 30 years-- and some of the earliest bodies are still on the road!
Wescott's makes bodies, fenders, and many parts for early Ford street rods. They are known for quality fiberglass parts and innovative fiberglass bodies with a steel "cage", but we also make hardware too.
Wescott's also offers a complete line of pickup fenders for Fords, 1926 -1956, including fronts, rears, inners, running boards and aprons. Complete line of fenders for Ford cars too, 1926-1948.